Who's that? A Generation X Quilter? Wow, look, a Generation X Quilter! I want to be a quilter! I love quilts! Can I see pictures of your quilts?
Those are the comments I am sure I will get when I wear my new
Generation X Quilter
T-shirt around town. I can't wait! Annemarie also sent me these gorgeous Hawaiian-style fat quarters and a sweet card. Thanks Annemarie!
Are you a Generation X Quilter? I admit, I had to look it up because I wasn't sure. Generation X is 1965 to 1981. That's barely me! I was born in 1981 (stop doing the math, I'm 30!), but I am also considered a Generation Y Quilter, which is 1981 to 1990. I straddle. :)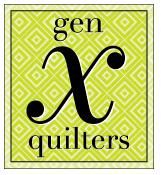 Anyway, if you fall between these letters and you love to make quilts, link up with Gen X Quilter on the
Blogroll
page and check out who else is there too!