Ah, the Fair! My favorite time of summer. Corn dogs, corn cobs, quilts, cotton candy, quilts, hypnotists, games, giant stuffed animals, quilts, sno-cones, over-priced beer, and, did I mention, quilts?!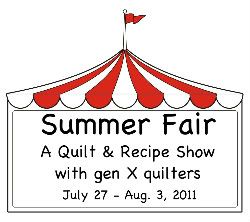 This Summer Fair is for bloggers. You don't have to leave your house to see all the beautiful quilts and drool over the yummy food! I worked on my submission all day today! May I present to you:
Mack and Jennifer's Wedding Quilt
This is actually a replica of the quilt I made and gifted for our Reverend. We got married in front of this quilt at the Burning Man Festival (the most awesome Summer Fair in the world!) last summer. I free-motion quilted large feathery hearts around the heart blocks.
I love how this design expands beyond the square. Like our love is too big to box! In the borders I did a free-hand loop-de-loop and hearts. I also quilted our first names at the head of the quilt and our last name at the foot. On the sides I quilted "Forever and Ever," "Eternal Bliss" (that's engraved in our wedding rings), "True Love", "Love", and "Bliss."
In each corner I quilted a special date. The day we met, the first time we said "I love you," the date he proposed, and of course, the date of our wedding, Sept 2, 2010.
In the border I quilted our sweet special nothings we tell each other constantly. "I love being married to you," "You are the love of my life," "We were made for each other," are just a few of the phrases.
I know it's hard to see the red thread on the red fabric, but I told my husband it was more private that way. It's kind of like our sweet secret.
Have I grossed you out with all this LOVE yet?! I finished the quilting in a marathon quilting session today and then made and attached the binding. It still needs to be sewn down and the label added, but I was so excited to show everyone! It's approx 45 inches across by 60 inches tall. Here's its cousin at our wedding:
Ahh...aren't we cute?! I am completely in love with this quilt and can't wait to finish!
Go to
Gen X Quilters
blog right now to check out all the other entries! (WTF?! Blogger won't let me type links in line right now, ugh!) If you'd like to link up, post a submission to the quilt show by August 3rd. Coincidentally, we are going to the California State Fair tomorrow. We will be the ones holding hands and being blissfully in love! <3