With a new year comes a time to make changes. I am definitely a goal-setting kind of girl. I love to set goals all day long. I set goals for the week, the month, the year. I don't wait for New Year's Day to start working on my goals. But might as well start some new goals for the New Year!
Goal #1: Get healthy. My husband and I are working on this together. We started the Body for Life diet on Jan 2. I've been feeling a bit like a stuffed sausage lately and am getting tired of it. We are doing the Body For Life Challenge. We also quit smoking again on Jan 3. We quit smoking this summer but it didn't stick. This time we are more serious!
To help me stick with my new diet and exercise plan I've joined in the Weight Loss pool at
A Feathered Nest
. Abby writes a super cute blog with all kinds of crafty ideas. She is hosting a Weight Loss Challenge right now. Everyone throws in $10 and the person who loses the most percentage of weight gets the money! Cute, huh? I've already lost 2 lbs!
Goal #2: Spend 15 minutes per day in my sewing room. I already mentioned this as one of my goals for this year. There are most nights I'll let slip by and spend my free hour on the couch. Squeezing in a work-out and nightly sewing into my already jam-packed schedule is asking a lot, but I have faith in myself. Besides, I do the dishes and clean the cat box everyday, why not sew?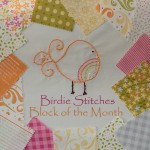 Goal #3: Learn how to embroider. Or stitch. I'm not even sure what it's called. I see it all over BlogLand though and I love them! I'm going to join
Birdie Stiches
BOM. Looks like fun!
Goal #4: Practice more FMQ. I've never been an artist. Well, I've never drawn. So I don't have that natural flow that comes with doodling and playing. I need to get that. I've been hoarding scrap paper from work and need to start doodling in my free time.
Goal #5: Buy a home! My husband and I are saving money every month for a down payment on a home of our own. This will happen more towards the end of the year, but is weighing on our minds now.
Those are some awesome goals to get me started. Wish me luck!