I originally had other plans for this post, but after reading about all these other fabulous giveaways, I just had to share them with you!
Cutie Pinwheel is doing a giveaway to celebrate her 200 followers
here
. I gotta say I'm in love with her blog look, so welcoming and eye-catching!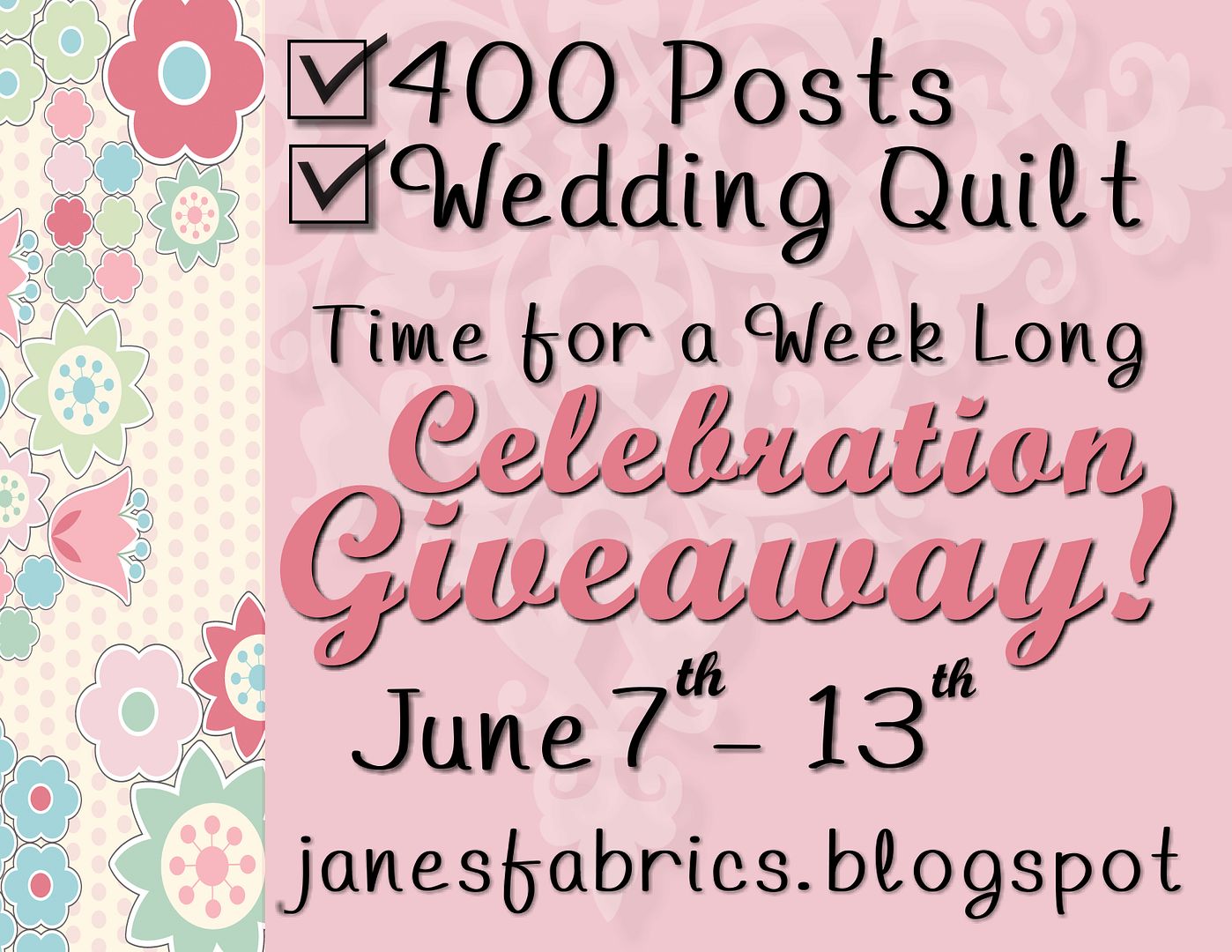 Jane's Fabrics and Quilts
is having a 7 day giveaway, so make sure you get over there everyday this week!
Puking Pastilles is giving away some gorgeous fabric and some patterns
here
.
Joanne is having a quilt kit giveaway at
Splitting Stitches
Jaybird Quilts is hosting a giveaway from The Quilt Shoppe (BTW, I'm playing Quilt Bingo right now with them!) She's
here
. PS, it took me awhile to notice it, but she's the designer of the quilt "Circle Around" that was on the cover of this month's Quilts and More magazine. That quilt has been "circling around" my brain ever since I saw it, and I've chosen five perfect recipients for that quilt!
Little Lady Patchwork is giving away some beautiful Candy Bars from Moda (these ones don't even stick to your butt!)
here
.
Quilting Arts is giving away some awesome fabric
here
. You have to sign up to be a member, if you're not already. And if you're not already, then why not?!
Sherri Howard is giving away a fabulous book (I have my eye on it, but I'll share it with you!)
Not Your Grandmother's Quilt
.
Sugar Stitches is giving away some so-amazing fabrics at her blog
here
. These are really gorgeous, and her blog design makes me crave candy. Seriously, go see.
Then head over to Ragamuffin's Etsy shop to check some things out and sign her guestbook. I'm sure you'll find something you love and in the meantime she'll enter you for a chance to win some charm packs
Ragamuffin's blog here
.
Whew! That took forever. It's like a mini-tour of blog giveaways. Is your head spinning too? Next time I swear I'll post the beginnings of a project I'm working on, until then...sew on!